The institution's monthly survey finds demand and sales falling for first time since first lockdown
Housing market activity moved decisively into decline last month due to concerns over the pandemic and the imminent end of the stamp duty holiday, according to the latest figures from the RICS.
The institution's monthly housing market survey showed that its indices measuring demand, listings and lettings all fell into clear decline in January following seven months of strong growth since the initial easing of the spring lockdown.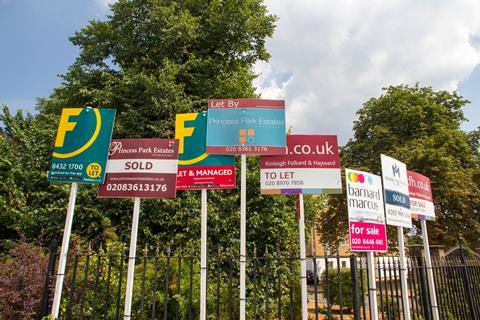 It said a balance of -28% of surveyors saw a decline in buyer enquiries over the month, with the listings index falling to -38%, and the sales index falling to -18%, denoting a drop-off in agreed sales. Each of these had registered growth in December.
Despite this drop off in demand and activity, the RICS said the majority of surveyors still registered prices rises over the month, albeit not quite as many as in December. London was the only region in which the majority of surveyors recorded price falls.
The extent of the hit to the rental market in London was also evident from the numbers, which showed a balance of -43% of surveyors recording falls in rental prices.
Estate agent John Coleman at Gsc Grays in North Yorkshire and The North East said that demand had fallen back since the turn of the year, but that "this is dwarfed by the lack of supply caused by the huge increase in sales over the last 6 months. Even with the end of SDLT holiday, demand is expected to outstrip supply for those who wish to move".
Simon Rubinsohn, RICS chief economist, said the figures reflected "perhaps an inevitable impact on the level of activity in the sector" from the latest lockdown.
He said: "That said, actual transaction numbers will remain firm over the next couple of months reflecting the completion of deals that in many cases were agreed through the back end of last year.
"The appeal of properties with more room and outside space is, meanwhile, a theme that continues to be strongly evident in the responses to the survey."