The number of new homes started dropped 14%, with starts down across all tenures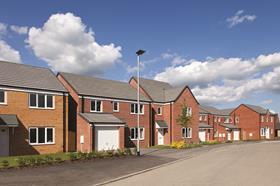 Housebuilding starts fell 14% between April and June this year according to the latest government figures released today.
Statistics from the communities department show starts across all tenures in the second quarter of 2015 were down and stood at an estimated 33,280, compared to 38,860 the previous quarter.
Housing association starts were down by 23% on the previous quarter, while private housing starts were down 12%.
Local authority housing starts fell by almost 50% with just 360 starts between April and June compared to 650 for the period between January and March this year. However, the communities department downplayed the figures and said the sector "can be quite volatile."
However, housing completions rose by 4% on the previous quarter and were up 22% on the same quarter the previous year.
Annual housing completions were also up to 136,320 in the 12 months to June 2015, an increase of 15% over the previous 12 months.
Housing trade bodies said the completions figures were "encouraging" but warned that the government is "still a long way short" in solving the housing crisis.
Commenting on the figures, Gavin Smart, deputy chief executive of the Chartered Institute of Housing, said: "The government has taken steps to boost house building but today's figures show we are still a long way short of where we need to be.
"If we are going to solve our housing crisis we need to see the government working together with a coalition of all parts of the industry, including social landlords and private developers – but we need the political will to bring all the players together and make that happen."
Henry Gregg, assistant director of campaigns at the National Housing Federation, said: "Today's figures are encouraging as they show housebuilding is at its highest level since 2008."
He added: "Housing associations are building across the country and are valuable potential partners for government to get even more homes built. We want to work together to end the housing crisis and provide quality affordable homes to everyone who needs them."