Abandoned scheme swallowed up more than £50m of cash in total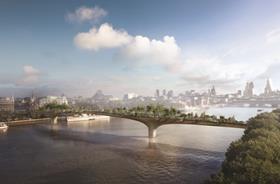 Transport for London has confirmed the final cost of Thomas Heatherwick's controversial Garden Bridge project topped £50m.
TfL, which has now published a detailed breakdown of the final expenditure of the Garden Bridge Trust, the charity in charge of the project, revealed that it swallowed up £53.5m of cash before being pulled 18 months ago.
Around £43m of this was public money with £24m coming from TfL and the remainder fom the Department for Transport.
In July 2015, Boris Johnson, then London's mayor and one of the key backers of the scheme, said up to £60m of public funding would be made available to the trust, with TfL and the DfT each provding £30m. Around £37m of this funding was paid to the trust in a series of payments tied to specific funding conditions.
The bridge had been due to be built by a team featuring French contractor Bouygues and Italian steelwork firm Cimolai after the pair beat rival bids from Bam Nuttall and Spanish contractor Dragados. Arup was the scheme's engineer and was supposed to have opened last summer.
But it faced fierce opposition with a number of high-profile opponents – including St Paul's Cathedral – objecting to the £175m bridge claiming it was nothing more than a vanity project in the wrong part of London.
TfL said the final cost included a £5.5m payment to the trust, which will come from DfT funding. The cost of winding up the trust is expected to cost up to £500,000. The trust has until June to request additional funding from this £500,000 contingency fund.
The report added there was no "reasonable prospect" of TfL or DfT being able to recover past payments made to the trust.
What the public coughed up with nothing to show
| | | |
| --- | --- | --- |
| TFL | | |
| | Services in kind, covered under the funding agreement (primarily on securing planning permission, legal fees and TfL internal staff costs) prior to the Trust taking control of the project in November 2015. | £10.67m |
| | Grant payments as per schedule in the funding agreement | £13.25m |
| | TOTAL | £23.92m |
| DfT | | |
| | Grant payments as per schedule in the funding agreement | £13.45m |
| | Underwriting agreement (Agreed payment) | £5m |
| | Underwriting agreement (Contingency) | £0.49m |
| | TOTAL | £18.94m |