Network Rail infrastructure boss Simon Kirby appointed as chief executive to oversee construction of £43bn project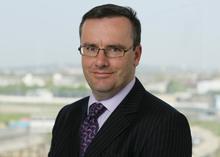 The company developing the £43bn high-speed rail line to the north of England has appointed a new construction boss.
HS2 said today it had appointed Simon Kirby as chief executive - construction.
Kirby joins HS2 from Network Rail where he is managing director - infrastructure projects. He will take up his new role in June.
Current HS2 chief executive Alison Munro will continue in her role until September, when she will become managing director of development, which will involve her overseeing the passage of the HS2 hybrid bill through parliament as well as making preparations for the development of phase two of the line, which will see it run from Birmingham to the north of England.
HS2 chairman David Higgins, said: "As I start my tenure as chairman of this essential project that will free up much needed capacity on our crowded railways, I am extremely pleased that we have secured Simon to run what will be the biggest infrastructure project in Europe, and one of the biggest in the world.
"Delivering this project in a way which is not just cost-effective, but also delivers its benefits to as much of the country as soon as possible, is a huge engineering project, but Simon has proven throughout his career that he is capable of taking on such a unique challenge.
"I fully realise that the skills he brings to the task are much sought after throughout the world and we are delighted he has agreed to take on the role - and that Alison Munro has agreed to continue in her role of over-seeing both the parliamentary process and the development of Phase Two.
"HS2 has the potential to rebalance the UK economy, easing pressure in the south, and opening up the possibility of growth in the north. We are fortunate to be able to call on the skills and commitment of both Simon and Alison to make that potential a reality."