Construction will begin on the second high-speed railway in 2017, the Department for Transport has confirmed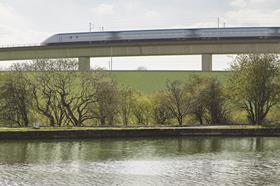 Construction on HS2 is set to start in 2017, the government has confirmed.
Transport minister Robert Goodwill confirmed the start date as around 120 changes to the HS2 hybrid bill were unveiled in Parliament, which will now be considered by the HS2 select committee.
Among the amendments to the bill to be put to the select committee are the introduction of more tunnelling on the HS2 route in Staffordshire and changes to the design of Old Oak Common to enable potential connections between HS2, Crossrail and the West Coast Main Line.
The main civil engineering work is expected to start in 2018, with major contracts totalling around £11bn set to be put out to tender this autumn.
HS2 Ltd issued tenders in March this year for contractors for £900m of enabling works and a £250m-300m engineering delivery partner for the first phase of HS2.
The select committee will also hear petitions against other parts of the phase one route between London and Birmingham. A public consultation will also start shortly.
The hybrid bill is expected to achieve Royal Assent by the end of 2016.
Goodwill said: "This motion is a major step forward both in terms of getting HS2 through Parliament and getting this vital railway built.
"The changes to the bill show the government is listening to communities along the HS2 route. By working together, we can ensure this vital railway is designed in the right way, so we have spades in the ground in 2017 as planned."