Six-building scheme designed by architect Studio Egret West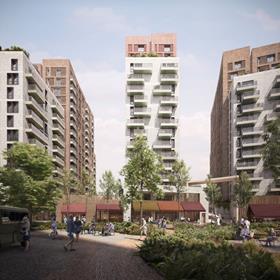 London-based developer Hub and landowner Smedvig have submitted a planning application for the redevelopment of a site in Maidenhead town centre called The Landing.
Designed by architect Studio Egret West, the scheme (pictured) features six buildings, delivering 519 homes, for sale and rent, including affordable homes, plus 56,300 sq ft of office space and 36,600 sq ft of retail, leisure and workspace.
The scheme is being submitted for planning approval in two parts; full planning permission for the demolition of the existing buildings on the site and construction of the first four buildings that will provide 375 homes, a new office building and 23,637 sq ft of retail, office, and leisure space.
The developers are also seeking outline planning permission for two buildings that will provide a further 144 homes and up to 12,963 sq ft retail, community and leisure space.
Hub is set to begin speaking to contractors over the summer with construction starting on site early next year.
Hub's previous projects include Hoola, two residential towers in Newham's Royal Docks that were built by Carillion before it went bust earlier this year.