Scheme includes 1,150 homes and an urban square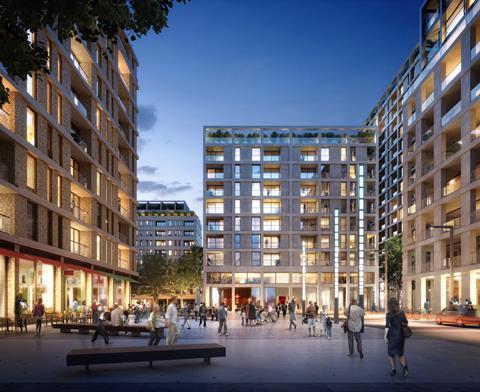 Helical Bar and Aviva Investor's massive Brickfields regeneration scheme in west London has been given the green light by Hammersmith and Fulham council.
The 1.6mft2 mixed use scheme will be built on the 11 acre former Dairy Crest site at White City. The decision to grant planning permission is subject to signing a section 106 agreement.
The scheme, designed by Eric Parry Architects, will include 1,150 homes, 210,000ft2 of offices and around 60,000ft2 of retail leisure and community space.
It will also include a new square surrounded by retail units, which will be targeted at local and start-up companies.
Matthew Bonning-Snook, development director at Helical Bar, said the approval was the first step in "realising the potential of this significantly underutilised brownfield site".
He added: "The Eric Parry designed masterplan seeks to properly integrate this scheme with the other emerging projects within the White City Opportunity Area, providing a cohesive vision for the regeneration of the area."