Essex-based firm reports a doubling in pre-tax profit for 2013 calendar year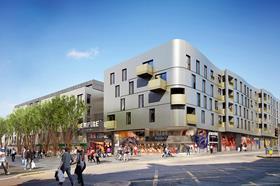 Housebuilder and contractor Hill Group is the latest to benefit from the economic recovery, with the Essex-based firm reporting a doubling in pre-tax profit for the 2013 calendar year as turnover broke the £200m mark.
The firm reported pre-tax profit of £14.1m, up from £7.3m, while turnover rose from £154m to £201m.
The results represent the fruits of the company's decision in 2012 to shift its business from being primarily a social housing contractor, to prioritise developing homes for private sale on its own land.
These figures show we bought wisely and shrewdly in the recession

Andy Hill, Hill
In 2013 the residential development business accounted for nearly half of turnover, at £92m, compared to just £38m in 2012. Andy Hill, chief executive of Hill Group, said that with housing schemes already in the pipeline development turnover was set to rise by a further £20m this year before hitting £160m in 2015.
Overall he said the firm was still on course to hit its target of becoming a £450m turnover business by 2016. The firm has a pipeline of 600 homes in Cambridge after buying land in the city during the downturn.
Hill said the results had been obtained without taking advantage of the government's Help to Buy programme. "These figures reflect our change of business strategy, and shows that we bought wisely and shrewdly in 2009 and 2010 in the recession," he said.
He added that the business had become "more selective" in taking on social housing construction work due to the difficulty of delivering schemes in the current market. "Tender prices have been rising exceptionally quickly, because the whole cost base is rising very, very fast.
"Labour-only trades have risen 30-40% in some cases. I wouldn't like to be living off a contracting business in this market."
In further evidence of the impact of the housing boom on the availability of materials, Hill added that the shortage of bricks had led to the firm taking down half-built homes on "a couple of jobs" after being told by the project's brick supplier that it couldn't fulfil an order.
The supplier of the specified brick said it wouldn't be able to supply it for 30-40 weeks.