LSE students among those evacuated as six-storey building in Aldwych collapses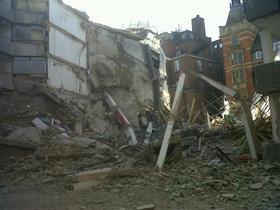 Hundreds of people have been evacuated and a member of the public has been taken to hospital after a building collapsed in the West End.
Eye witnesses spoke of hearing a 'massive crash' after one side of a building, which occupies the area on the corner of Serle Street and Portugal Street in Holborn collapsed at 4:15pm on Monday afternoon.
Over a hundred people, including some from the London School of Economics, have been evacuated and police have cordoned off the area. One man was taken to hospital
The six-storey building was in the process of being demolished, and pictures from the scene show twisted scaffolding around a gaping hole where the building had been.
London Fire Brigade station manager John Snelgrove, who was at the scene, said: "When the first crews arrived they found the building, which was under refurbishment, had collapsed between the fifth and second floors.
"Firefighters gave first aid to an injured man on site until ambulance crews arrived and also helped police put safety cordons in place and to evacuate people from the immediate area.
The Brigade was called at 16.14 and responsibility for the incident was handed over to the police at 17.17. Two fire engines from Soho, three fire rescue units from East Ham, Edmonton and Heston and around 30 firefighters and officers attended the incident.