New boss fills gap left after Tony Aikenhead stepped down from family-owned firm in July last year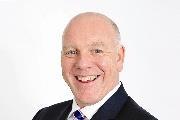 Paul Hamer has hailed Sir Robert McAlpine's "fantastic 150-year heritage" following his appointment as the company's chief executive officer this week.
McAlpine has been without a boss for nearly a year since Tony Aikenhead stepped down as chief executive of the contractor last July after less than a year in the role.
Hamer (pictured) will join McAlpine on 31 July, moving from consultant WYG, where he has been chief executive for the last eight years. Hamer, while reluctant to discuss his new role as head of McAlpine before taking up the job, told Building that he shared McAlpine's corporate values. He said: "There is a chemistry there."
"The company is viewed as Britain's greatest builder, one that gets the best jobs in the market," he added. "We will be building on the key strength of engineering excellence whilst leveraging the tradition and heritage of this great company."
Gavin McAlpine, non-executive chairman of Sir Robert McAlpine, said: "At WYG Paul refocused the business around driving value for its clients. At Sir Robert McAlpine, we are focused on our clients' needs and delivering exceptional value. I am certain that Paul will challenge us all to excel in supporting these objectives."
Building Values analyst Tony Williams, however, gave a mixed reaction to Hamer's appointment.
"It's a welcome move and good to see they've got some new blood in, but I'd have preferred a bigger name. This will be a big step for Paul Hamer. He'll be painting on a much bigger canvas. They've got to give him at least 18 months in the job, preferably two years.
"It [McAlpine] needs all the help it can get. It used to be able to get almost any contract it went for but is now being pipped by the likes of Lendlease and is possibly losing out due to some poor decision-making on [historic] contracts. It's affected its reputation. McAlpine seems to be losing some of the cachet with clients."
Building revealed this week that McAlpine had lost out to Lendlease for a role on the £1.5bn redevelopment of the former army barracks in St John's Wood. McAlpine also lost out to its Australian-owned rival for the job to build Google's £650m Kings Cross headquarters earlier this year.
However, the company has won the construction manager role on the first part of the Foster + Partners and Frank Gehry-designed third phase of the Battersea Power Station redevelopment.

A year at McAlpine
May 2016 Sir Robert McAlpine reports for a second year it has slumped to a pre-tax loss on the back of costs relating to contracts taken on during the recession
July 2016 Tony Aikenhead quits as CEO after less than a year in the role. McAlpine rules out appointing another family member as boss of the firm
October 2016 Former Skanska boss Paul Heather joins as London director
January 2017 Loses out to Lendlease for job to build Google's new Kings Cross HQ
April 2017 £53.4m pensions scheme hit sends McAlpine's parent company Newarthill into a third annual loss
June 2017 Loses out again to Lendlease for role on £1.5bn redevelopment of army barracks in St John's Wood.