Uncertainty over Scottish independence could see backers scrap BDP-designed expansion of Buchanan Galleries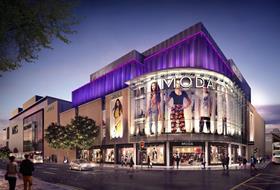 A £350m retail scheme in the heart of Glasgow is at risk of being scrapped should Scotland vote to become independent next week.
According to the Financial Times, backers of the scheme to double the size of Glasgow's Buchanan Galleries have privately raised concerns about economic uncertainty following independence, with a person familiar with the project telling the newspaper the scheme could be scrapped.
The scheme, developed in a joint venture between Land Securities and TIAA Henderson Real Estate, comprises a 1.2 million sq ft expansion of the Buchanan Galleries shopping mall, with a mix of retail and leisure space, including a 150,000 sq ft Marks & Spencer store and a reconfigured 300,000 sq ft John Lewis store.
Once complete in 2017 the BDP-designed centre will house 100 shops, 25 restaurants and a multi-screen cinema and will be directly connected to a revamped Queen Street Station.
Land Securities told the FT: "We're committed to Glasgow. It's a prime centre for us. We're not going to comment on the referendum itself."
Henderson Global Investors, which jointly owns TIAA Henderson Real Estate with asset management group TIAA-CREF, declined to comment.
The revelation comes as the latest poll showed a narrowing of the lead for the No camp, with one poll putting the Yes campaign ahead.
The referendum vote is on 18 September.