EU workers should get no special preference after Brexit, says government-commissioned report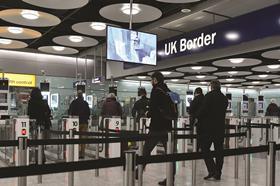 Industry bodies have slammed a report by the migration advisory committee which said the UK should offer no preferential access to labourers from any country after Britain leaves the EU.
The proposals would rip-up the current migration regime whereby labourers from EU countries have a right to enter and seek work in the UK.
The migratory advisory committee, which was set up to advise ministers on a post-Brexit migration policy, suggests placing EU labourers on a par with workers from non-EU workers.
The committee suggested scrapping the number of skilled workers allowed to enter the country but said added it was "not convinced there needs to be a work route for low-skilled workers" from the EU to fill jobs in certain industries.
Brian Berry, chief executive of the FMB, said: "Today's report makes very worrying reading for the tens of thousands of small construction firms across the UK who are already deeply concerned about the skills shortage."
"Its recommendations ignore the pleas of construction employers who have called on the Government to introduce a visa system based on key occupations rather than arbitrary skill levels."
And RIBA chief executive Alan Vallance said: "The recommendations in today's report would have profound implications for architecture. One in five architects working in the UK are from the EU and after freedom of movement ends, it is crucial to create a post-Brexit immigration system that helps protect the workforce and addresses long-standing problems.
"It is disappointing that the Committee has recommended introducing a £1000 Immigration Skills Charge to employ EU nationals and that it has not moved on the onerous salary threshold. Both of these measures will hit smaller practices the hardes," he added.
James McLarin, communications director at Build UK, said: "The industry has committed to recruit, train and retain home-grown talent but a clear and sustainable migration approach that focuses on key occupations and appropriate skill levels is urgently needed so we can bridge the gap."
The government has said it will "carefully consider" the proposals.