Build UK and FMB back CBI report calling for a convergence on rules and standards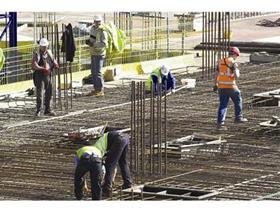 Construction trade bodies have joined forces with the CBI in calling for regulatory consistency after the UK leaves the EU next year.
Build UK and the Federation of Master Builders (FMB) have backed a report by the employers' organisation which says that while Brexit offers opportunities for rule changes in some sectors the benefits of divergence "are vastly outweighed by the costs of deviating from rules necessary to ensure smooth access to the EU market".
In its report the CBI said regulatory convergence on rules for construction products and materials was vital to protect manufacturers' competitiveness and avoid major barriers to trade.
Build UK chief executive Suzannah Nichol said a consistent regulations and standards across the EU would be critical to the construction industry's ability to deliver the UK's infrastructure and housing needs.
"Build UK supports the CBI's calls for a 'jobs-first' focus to the UK's regulatory regime to avoid costly changes which would have substantial consequences throughout the construction industry."
And Brian Berry, the FMB's chief executive, said whether it was continuity in health and safety regulation or the stability of the UK construction manufacturing industry, ongoing alignment of regulation would be important to the sector in a post-EU environment.
He said: "The CBI is quite right to place this strong emphasis on stability and continuity and the FMB is supportive of this."
The question of standards alignment has been raised in the wake of the Grenfell disaster after it emerged that French regulators had lowered the rating of the type of cladding material used on the building.
The UK's BBA, which accredits the performance of construction products, approved the material used on the residential tower block in west London which was consumed by fire last summer, claiming more than 70 lives.
The BBA's decision was in spite of French certification body CSTB lowering the fire rating of Reynobond ACM cladding panels featuring a polyethylene core back in 2014.
Had the French ratings been used in the UK, the cladding would not have been allowed.