Concerns grow that renewable heat incentive could be up for the chop in tomorrow's spending review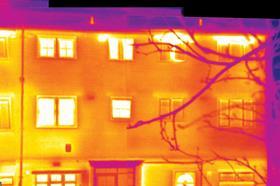 Industry concerns are growing that the renewable heat incentive could be the latest energy policy to be scrapped ahead of chancellor George Osborne's spending review tomorrow.
Market sources told Building they expected the renewable heat incentive (RHI) to be scrapped or significantly reduced as part of the spending review.
The RHI is one of the few green subsidies to remain unscathed so far, amid drastic cuts elsewhere to feed-in-tariffs, the Green Deal and the Renewables Obligation.
Reports over the autumn suggested the Department for Energy and Climate Change (DECC) was planning to cut the RHI as part of its spending review submission to the Treasury.
The RHI scheme provides payments to households and businesses that install low-carbon heating systems such as biomass boilers and ground-source heat pumps.
A source close to the policymaking process told Building: "It's looking increasingly likely that RHI will be stopped. It's pretty much an open secret in DECC that RHI will end at the spending review."
However, another source close to DECC said: "We will probably see a reduction in the budget, but the general feeling is that [energy secretary] Amber Rudd is fighting to keep RHI."
It comes after a leaked letter from Rudd to senior government figures including Treasury chief secretary Greg Hands and transport secretary Patrick McLoughlin, first seen by trade title the Ecologist and also seen by Building, revealed the government is behind on its EU obligation to generate 15% of its energy from renewables by 2020.
In the letter, Rudd says that meeting the overall target would require the government to "continue support" for "new renewable heating installations after the current funding settlement ends in 2015/16."
The source added: "Some people are of the view the letter was leaked deliberately. Amber Rudd wants to keep some budgets for RHI, as she doesn't know how else they will meet the targets."
A source involved in the biomass suppliers list for non-domestic RHI told Building uptake for the scheme has been "phenomenal", and added: "I guess if you're government in terms of carbon reduction it's been great, but it is certainly costing them a lot more than they expected."
Commenting on the possibility of the scheme being scrapped, Richard Twinn, policy advisor at the UKGBC, said: "We're concerned that the RHI is under threat. Unless there's some sort of replacement in the works for it then basically we have nothing in the policy realm driving the adoption of low carbon heating, meaning that once we get to the 2020s we will be massively behind where we need to be in terms of carbon reduction."