New poll seeks to get latest picture of how last year's fatal fire affected firms' premiums and cover availability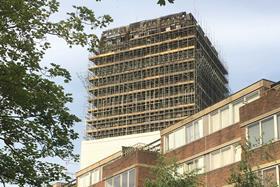 The Construction Industry Council has launched another survey to gauge the impact of last year's Grenfell fire tragedy on insurance cover for the construction sector.
A previous CIC poll, carried out earlier this year, sought to find out how much terms for professional indemnity (PI) and other forms of insurance were being revised following the fatal fire in west London in June last year.
It found that while 80% of those firms who responded had seen no increase, one in 10 had been hit with increases for PI insurance premiums of 50%.
The initial survey had also wanted to determine whether some organisations would find it difficult to work in areas deemed to be higher risk.
CIC, supported by Build UK and the Construction Products Association, said it was now "essential" to run an updated survey to assess the situation in the 14 months since the Grenfell fire and capture all the renewals which have taken place since the tragedy.
"The survey is intended to continue to help industry and government understand the extent of this problem and how it could impact the capacity of the sector," said CIC chief executive Graham Watts.
"We need widespread engagement to get the fullest picture possible about the effect that the Grenfell fire has had on industry capacity and costs. It is important that every business participates even if you may have responded to the earlier survey."
Companies wishing to take part in the survey can click here. The deadline for responses is 20 September.