CBI boss hits out government over lack of action over infrastructure and PFI as industry leaders launch campaign for construction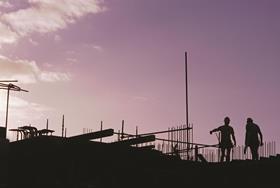 The head of the CBI business lobby and a host of heavy weight construction leaders have called for the government to accelerate investment in infrastructure and boost the construction industry in order to stimulate economic growth.
John Cridland, CBI director general, today criticised the slow pace of change in the UK economy and called for the government to accelerate infrastructure investment and get "diggers on the ground".
He told the Radio 4 Today programme: "Infrastructure is the best way to get business moving, but the pace of change is too slow. The implementation of new infrastructure is sluggish, and aviation is a very good example of it. We haven't got diggers on the ground.
"If we're going to have more infrastructure let's get the super fast broadband to the small businesses in the remote parts of the country.
"If we're going to do road tolling so that we can get roads built, when the taxpayers can't afford them, let's get the diggers on the ground for those roads let's get the new railways built. Everything is just taking longer than it should.
"I'm talking about construction companies, and investment funds like pension schemes. Putting up the money on the basis that they will do what the taxpayer can no longer afford to do, if they get an income stream in the long-term.
"If you take a pension fund, pension funds want safe investment where they can know that they've got money coming in year in year out when pensions have to be paid.
"A toll road, for example or the amount of money that comes through an airport on a continuing basis, is a very good form of investment for the private sector, producing infrastructure which produces new jobs, which increases the economic wealth of the country, and does what the taxpayer can no longer afford to do."
Cridland also criticised the government for failing to provide an alternative to the PFI model, after placing it under review last year.
He said: "One of the decisions we've not had from the Government, and I much regret this, is a decision about what's going to happen with PFI.
"The Government can't have it both ways. It can't say on the one hand that the taxpayer can no longer afford to do these things, and it wants the private sector to help out, and then not make its mind up what's right and what's wrong with PFI.
"PFI isn't broken, there are some things that need changing to make sure that the benefits of new developments are shared between the taxpayer and the developer who puts their money at risk. But we need a decision on what's going to happen with PFI."
Cridland's intervention came as a host of industry leaders joined the UK Contractors Group's (UKCG) this morning to launch a new campaign - 'Creating Britain's Future' - calling for government to speed up investment in infrastructure projects and promote investment in the industry as an important means of stimulating jobs and growth.
Paul Sheffield, Kier chief executive, said: "The construction industry has one of the highest multipliers of any industry - every £1 invested in construction generates £2.84 in economic value.
"Yet, construction output is falling as government spending contracts and public sector projects are delayed.
"Within the current reduced public sector budget, there is more the national government and local authorities could be doing to stimulate construction and create growth; not least by speeding up decision making and finding new ways of financing construction projects."
James Wates, deputy chair of the contractor Wates and chairman CITB-ConstructionSkills, said: "Investing in skills and training is a pre-requisite as we move out of recession and back to growth. Construction has lost 200,000 people since the start of the recession and apprenticeship numbers have halved - leaving fewer opportunities for young people coming into our industry.
"Our industry faces a ticking time bomb, so we have to invest now to help industry and the UK economy to grow and prosper in the long term. If we fail to invest now, we risk widening the skills gap in the future."
The UKCG campaign is backed by Building magazine and a host of big names in the construction industry, including Mike Peasland, Balfour Beatty Construction Services chief executive; Richard Howson Carillion chief executive; and Paul Drechsler, Wates chairman and chief executive.
Other backers include:
Graham Cash, Chief Executive, BAM Construct UK
Steve Fox, Chief Executive, BAM Nuttall
Steve Radcliffe, Managing Director, Clugston Construction
Andrew Wyllie, Chief Executive, Costain Group
Kevin Mouatt, Chief Executive Officer, D&R Group
Greg Fitzgerald, Chief Executive, Galliford Try
David Fison, Chief Executive, Geoffrey Osborne
John Hynes, Managing Director UK, Harsco Infratsructure Services
Adrian Ringrose, Chief Executive, Interserve
David Lawther, Chief Executive Officer, ISG
Paul Sheffield, Chief Executive Officer, Kier Group
Stephen Pycroft, Chairman and Chief Executive, Mace
Keith Miller CBE, Group Chief Executive, Miller Group
Rod Sellers, Chairman, Seddon Group
Tom Haughey, Chief Executive Officer, Severfield-Rowen
Cullum McAlpine, Director, Sir Robert McAlpine
John Stanion, Chief Executive, Vinci
Alan Robertson, Chief Executive Officer, VolkerWessels UK
Rick Willmott, Chairman, Willmott Dixon
Stephen Ratcliffe, Director, UK Contractors Group
Steve Bratt, Chief Executive Officer, Electrical Contractors Association