Firm's cost consultancy arm warns that 'that optimism needs to be backed up by workloads'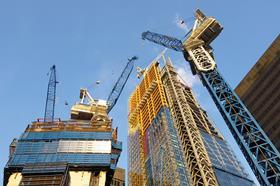 The construction industry "remains in recovery mode" and will only grow at a "slow and steady pace in the medium term", according to the latest tender price forecast from Mace.
The firm's cost consultancy arm cautioned "that optimism needs to be backed up by workloads" and held its UK tender price inflation forecasts at 2% this year, 2.5% in 2015 and 3% in 2016.
In London, Mace forecasts remain at 3.5% tender price inflation for this year and 4% in both 2015 and 2016.
Demand is outstripping supply in some places — that may be why our competitors are predicting higher tender price inflation

Chris Goldthorpe, MACE
Mace - which upgraded its UK and London tender price forecasts in January - said it was sticking to its forecasts now in part because reduced UK inflation "has helped keep tender price increases lower than they might otherwise have been".
Mace said that while contractors' and consultants' workloads and confidence had improved, it was still possible to "find a number of suitable contractors ready to offer keen prices to secure work", while "competitive pressures on [consultants'] fees remain high".
Mace added: "The recession of the past five years has already shown that the recovery period is significantly longer than that experienced in other modern recessions, and we expect this to continue to be the case."
The decision to hold its tender price inflation forecasts means Mace is forecasting the lowest inflation levels of any of its main competitors, including Sweett, Gleeds, EC Harris, Gardiner & Theobald, Turner & Townsend and Faithful+Gould.
Chris Goldthorpe, Mace's head of cost consultancy, said: "Demand is outstripping supply in some places - that might be why some of our competitors are predicting higher tender price inflation [than us]. But all the fundamentals - like labour costs, commodity prices, oil prices and exchange rates - will rein in inflation."