Industry figures surprised by merger talks but can see both pros and cons for potential mega-contractor's competitors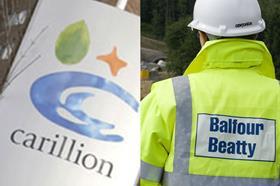 Senior construction figures have reacted with surprise at the news that contractors Carillion and Balfour Beatty are in merger talks, but said the emergence of such a major new player could provide new opportunities for joint ventures.
Last week, Carillion and Balfour Beatty confirmed they had started merger talks to potentially create a £14bn-turnover business.
The move was unexpected, with the bosses of rival firms who spoke to Building this week all expressing surprise at the news - but some suggested the mega-merger, if it goes ahead, could generate new opportunities.
Many rival contracting bosses, who did not wish to be named, celebrated the fact that a merger would effectively mean one less firm to compete with when bidding for work.
But the boss of another rival contractor said: "On the other hand you are competing against a stronger offer, so it can work both ways."
Philip Youell, chief executive of consultant EC Harris, said it was a "very interesting development" for "two very strong brands".
He said: "You can see the rationale as their clients are aggregating and putting out bigger and bigger programmes of work, yet their balance sheets are relatively weak so it's a real challenge.
"A strong [contracting] business in the supply chain is a good thing for UK plc."
The boss of a rival contractor said: "If you have got a big sensible UK contractor operating in the same space as us internationally then it is not a worry for us and actually it could help with joint ventures.
"Where it would be worrying would be if [Balfour Beatty] ends up being sold to yet another international player because we have got to know how they [Balfour Beatty and Carillion] are going to play in the sector, but if someone else comes along you don't have that."
However, the boss of another contractor told Building the merger was a "cop out" by the Balfour Beatty board intended to quickly return the business - which has made four large profit warnings in the last 18 months - to health rather than fixing its problems internally.
He added that it was a "smart move" by Carillion to make the offer while Balfour's share price was low.
Several of the construction leaders Building spoke to said that they expected there to be more mega-mergers sweeping the industry in the coming years.

One contracting boss said: "Coming out of recession might be even more dangerous than going in. That may drive some more consolidation.
" I think we will see some more companies struggling, and mergers, mainly because of the cost pressures [from contracts] that they signed up to in the recession."
Another boss said: "As soon as people stumble there's going to be people looking to make a move."