But Market View report warns firms to brace for rising costs of materials after Brexit
Growth in infrastructure will drive the recovery of the construction sector in 2021, according to Mace's last Market View forecast of the year.
The report called the government's long-term spending commitments on infrastructure the "main ray of light" for the industry after a feeble recovery of new orders across the construction sector in the third quarter resulted in the weakest pipeline since 2012.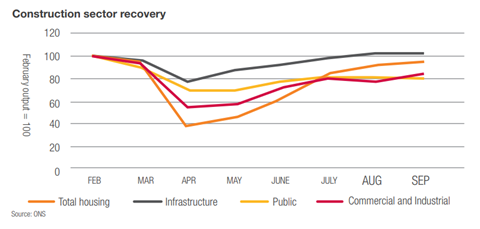 Major projects including HS2, Hinkley Point C, Thames Tideway and Crossrail have already helped infrastructure become the only construction sector in which output in the third quarter was higher than in the first, according to the analysis, while funding of £1.7bn for road projects announced in the government's recent spending review will also bolster growth.
Mace said these projects will provide companies with "much needed assurance" in terms of investing and planning, although it added that this would be less true for smaller firms specialising in struggling sectors which do not have the capacity to move employees into more stable sectors.
Meanwhile, last week's Supreme Court decision in favour of the £14bn Heathrow airport expansion raises the possibility of another mega-project coming on line next year, with the start of talks to build the £20bn Sizewell C nuclear power plant in Suffolk also provided further optimism.
Pharmaceutical projects and data centres are also expected to see "robust growth", according to the report, although these projects account for just 5% of an otherwise "bleak" commercial sector.
Potential hikes in the cost of materials if new customs declarations are needed after the end of the Brexit transition period next week are one of the biggest risks to construction next year, with border chaos already well underway following restrictions placed on UK travel by countries around the world attempting to contain a new strain of covid-19 first identified in Kent.
Mace managing director for cost consultancy Steve Mason said: "On the face of it, the construction industry appears to have weathered the storm of the immediate impact of covid-19 remarkably well, but the uncertainties of Brexit now loom once again.
"The recent government spending commitments will provide some welcome comfort to those operating in the public sector and for long term infrastructure programmes.
"Other sectors look less certain, and the longer-term impact of new working patterns on commercial space will provide a combination of opportunities for repurposed space, as well as the obvious challenges for demand in the short term."
Revised ONS figures for the whole economy published yesterday reveal GDP grew by a record 16% in the third quarter, up from a previous estimate of 15.5%.
But this is still 8.6% below the same quarter in 2019, with construction output in the third quarter – despite seeing a record 41.2% rebound compared to the second quarter – still 7% lower than in quarter four 2019.