Stadium manager says problems with steel behind the action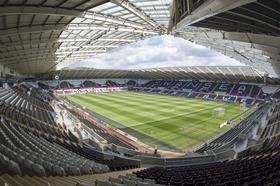 Interserve and Swansea city council are being sued for alleged defects on the construction of the city's Liberty Stadium which was completed more than 13 years ago.
Swansea Stadium Management Company (SSMC), which is wholly owned by Championship club Swansea City, claims the steel structure of the £27m stadium is suffering corrosion as a result of paint delamination and that visitors have tripped up due to a slippery surface on the concourse.
The 21,000 capacity stadium (pictured) was built by Interserve for the council and opened in 2005 as a new home to the Welsh football club, which had previously played at the Vetch Field, and the city's renamed rugby union club, called the Ospreys which had played its games at the St Helen's ground in the city.
The stadium was run by a tripartite agreement between the council and the two teams, with each mutually controlling SSMC.
But from February this year, the football club took full operational control of the stadium through a lease agreement with the council, and took full ownership of SSMC.
The claim was first issued back in April last year and sought joint damages of £1.3m from Interserve and the council. However, most of the claim was struck out at a hearing this June because it was lodged five days outside the 12-year defect period.
The judge considered an email sent from consultant Gardner & Theobald to Interserve, on behalf of the council, to be key evidence. The email stated that "the Works have reached Practical Completion as at 31 March 2005".
The remainder of the claim will be heard at the High Court on 29 October.
Interserve declined to comment on the upcoming hearing but said the claim centred on "defects that were identified in the defect liability period, one year after practical completion, with a question as to whether these defects were made good or not".
The council said: "The council has clearly stated that we are not responsible for the alleged defects and we will robustly defend our position in order to protect Swansea taxpayers' money."
Swansea City FC has been contacted for comment.