Chief executive says agreement puts it on a "firmer footing"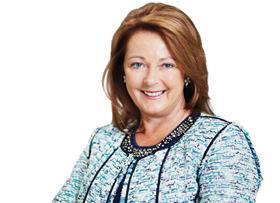 Embattled contractor Interserve has secured £180m in additional short-term funding and reached agreements with its lenders to defer loan repayments until the end of March.
The firm said the deals, which will see its net debt increase by £10m, would provide it with a platform to continue discussions with its lenders as it looks to secure longer-term funding.
Interserve chief executive Debbie White is attempting to turn around the company, which has seen the cost to exit the energy from waste sector surge to nearly £200m, as well as falling margins at its support services arm.
The first wave of a redundancy programme is expected to cull 200 posts, while a shake-up of the firm's management has seen the appointment of a director of transformation and departure of Bruce Melizan next month, the boss of its support services business.
Interserve's chief executive Debbie White (pictured) said that while there was still much to do "securing these agreements puts Interserve on a firmer footing".
She added: "These short-term committed borrowing facilities, together with the ongoing work to clearly define the strategy and commercial structure for the business going forward, will bring further stability and clarity for our clients, our people and our shareholders."