Hand over of plant in Derby had been due by end of September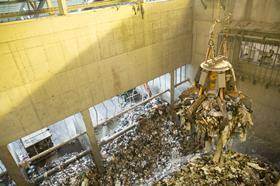 Interserve has run into more problems on an energy-from-waste contract after failing to hand over a scheme in Derby when it said it would.
The firm is in a 50:50 joint venture with waste management firm Renewi to carry out work on the £145m scheme at Sinfin.
The JV, called Resource Recovery Solutions (RRS), had originally been due to finish the scheme for Derby city council and Derbyshire county council at the end of last March after signing up to the deal back in 2009.
Interserve then told investors in its interim results published this August that it "anticipated handover [on the Derby plant] in the third quarter" – by the end of September.
But the firm has run into commissioning problems meaning the plant, which has been constructed and is processing waste, has yet to be fully commissioned for handover to the councils.
In a joint statement, the councils told Building: "This is a very complex contract that is at an important stage of development, given that the waste treatment centre is built and that RRS are in the latter stages of commissioning the facility.
"The councils are carefully monitoring the progress of commissioning and are in discussions with RRS about how they can get the waste treatment centre fully operational to meet the required capacity and performance requirements as soon as possible."
Interserve said: "We continue to commission the plant in readiness for takeover. We will provide further updates in due course."
In August, Interserve said it expected to complete its remaining energy-from-waste contracts by the end of the year after racking up £11m of more losses on the initiative in the first half.
The firm decided to pull out of the market more than two years ago after a number of jobs, notably a scheme in Glasgow which it was kicked off from back in autumn 2016, turned sour.
The firm, which had to complete a refinancing deal earlier this spring to cope with the losses, said it blew another £11.2m on its energy-from-waste business – on top of the £216m it has already had to weather – in the six months to June.