Firm says performance in other divisions is 'offsetting' UK construction division trading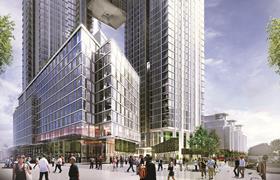 Interserve has said UK construction market conditions are "challenging" in a trading update this morning.
The firm said more "encouraging" trading across its other divisions - support services, equipment services and international construction - was "offsetting" performance in its UK construction division, which it said "remain[s] more challenging".
Interserve said overall trading is "in line with the board's expectations".
The trading update comes ahead of publication of Interserve's half-year results for the six months to June 2015, which will come out next month.
Stephen Rawlinson, analyst at Whitman Howard, commented: "The indications that it is trading well in Support Services, Equipment Services and International Construction sits oddly with the news that trading in UK Construction is "more challenging".
"We suspect trading is very strong outside of the UK Construction piece and therefore is in line overall."
Recent major contract wins for Interserve's UK Construction business include the contract to build the £900m One Nine Elms towers (pictured) in London, won in joint venture with China State Construction Engineering Corporation.
Last month the firm was selected preferred bidder for the £200m redevelopment and refurbishment of a Ministry of Defence rehabilitation centre near Loughborough.