Interserve's construction boss Ian Renhard has been promoted to the firm's executive board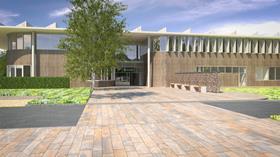 The news came as Interserve posted trading update today, said the firm was trading in line with expectations.
The leadership changes see UK Construction, led by managing director Ian Renhard, report to executive director Dougie Sutherland, while international, led by George Franks, will report to chief executive Adrian Ringrose.
Renhard and Franks have been promoted to the executive board with effect from 1 January 2013.
Long-serving board member and non-executive director David Trapnell will retire from the board in May. He will be replaced as senior independent director by Les Cullen, who will in turn be succeeded as chair of the audit committee by Anne Fahy.
In its trading update, the firm said: "Despite continuing mixed market conditions, we expect to make further progress in 2013.
"Our medium-term growth strategy remains focused on continued organic progress within our core businesses, further international expansion and seizing growth opportunities in attractive markets."
The firm said it had generated value of £179.5m from its PFI assets, "further improving our financial position and placing us well to take advantage of strategic development opportunities".
Ringrose said: "We have continued to perform well and in line with expectations, despite mixed market conditions. We are executing our strategy and remain on track to achieve significant medium term growth.
"We have realised significant latent value from our PFI portfolio, positioned the business to take advantage of strategic opportunities and materially reduced our pension deficit.
"The recent acquisitions of TOCO and Advantage Healthcare together with continued organic progress further underpin our medium-term growth potential.
"We have confidence in our ability to make further progress in 2013."