The firm has been providing the BBC with security services at its properties since 2014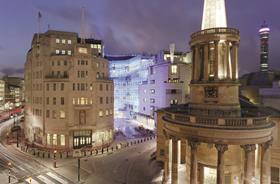 Interserve has been awarded a two-year extension to its contract to provide security services to the BBC, worth in excess of £20m.
The company has provided the BBC with security services across the corporation's UK properties since April 2014, when it was won a three-year contract.
Interserve handles all manned guarding, close protection and control room operations at sites including Broadcasting House in London (pictured), Pacific Quay in Glasgow and the Media City UK complex in Salford. The account extension will start in early 2017.
Tom Ward, director of operations for security at Interserve, said: "We have a strong working relationship and have built up a track record of delivering outstanding service across a large and diverse portfolio."
Interserve is also the BBC's integrated facilities management partner and provides workplace support and services including cleaning, maintenance, mechanical and electrical, signage and waste management to sites across the UK.