ISG boss says he does not expect the firm's 0.2% construction margin to improve this year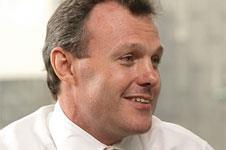 ISG's boss has said he does not expect the firm's construction margin to improve this year from the 0.2% it reported this week.
Reporting its results for the year ending the year ending 30 June 2012 this week, the firm said revenue for the construction business increased 15% to £533m.
But profit fell from £4.1m to £1.4m - a 66% drop with the pre-tax profit margin falling to 0.2%.
Speaking to Building,ISG chief executive David Lawther said the construction business was at the "bottom level of the cycle" and he did not anticipate an improvement in construction margins this year.
However, Lawther said margins in other parts of the business were expected to improve.
The results showed revenue across the group rose 9% to £1.28bn. But pre-tax profit fell from £10.2m the previous year to £3m - a 70% fall.
Within the group, ISG's UK fit-out business posted revenue of £347m, up slightly from £342m the previous year, with pre-tax profit down 16% to £6.7m. The firm said its UK fit-out order book was up 7% to £182m.
Lawther said profit from the firm's international business had nearly quadrupled to £3.5m.
"None of our UK competitors are competing with us in those markets overseas and clearly that's growing significantly," he said.
The firm said it had renewed its banking facilities with Lloyds and RBS, which include a term loan of £6m and a revolving credit facility of £10m that now expire in September 2015.
Its order book was marginally ahead of 2011 levels, with a pipeline of £760m of work, with a private sector bias of 81%.
The firm also said it had combined its bank and retail fit-out businesses because larger retailers such as Tesco had scaled back expansion programmes.
Lawther said its UK fit-out business would target growth in data centres, commercial office, high end residential and hospitality sectors.

ISG: at a glance
Results for the year ending 30 June 2012:
Revenue £1.28bn - up 9%
Pre-tax profit £3m - down 70%
UK fit-out
revenue £347m - up 1.5%
pre-tax profit £6.7m - down 16%
UK construction
revenue £533m - up 15%
pre-tax profit £1.4m - down 66%