Collapsed contractor had been tasked with adding two floors to Royal Angus Hotel
ISG has taken over a central Birmingham site where collapsed contractor Shaylor had been revamping a 186-room hotel.
Shaylor signed a £25m contract to overhaul the Royal Angus Hotel, in Birmingham's Snow Hill area, back in 2018.
The West Midlands-based contractor went into administration in June, with approximately 200 employees made redundant.
The refurbishment is designed by architect Falconer Chester Hall and is set to see the addition of two extra floors, as well as a roof terrace and four new meeting rooms.
The new hotel will be Birmingham's first Doubletree by Hilton and is set to feature two Marco Pierre White-branded eateries: Mr White's English Chophouse restaurant and Marconi coffee shop.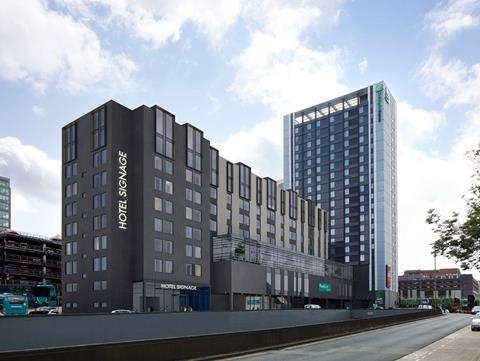 The hotel had been due to open this autumn – although Building understands Shaylor had experienced delays and was not expected to hand over the building until early next year.
The hotel is now not going to open until around the middle of next year, Building understands.
The scheme is being project managed by RPS Group, while the developer is St Chad's (Birmingham) Hotel Limited, a vehicle owned by asset manager Downing.
A spokesperson for Downing said: "Shaylor, the main contractor, entered into administration in June and this has impacted the construction project at the Royal Angus Hotel.
"As a result, alternative arrangements have been made to ensure the development can continue through to completion."