Firm's international president to take over as CEO in 2014 as Lee McIntire prepares to step down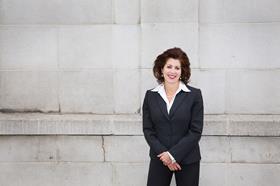 Jacque Hinman, CH2M Hill's international boss, is to take over as the firm's chief executive.
In a statement, the US-based engineering giant – which two years ago took over British civils firm Halcrow – said Hinman, 52, would take over at the start of next year as current chief executive Lee McIntire is stepping down.
McIntire, 64, who has been chief executive since June 2009, will continue to serve as chairman, CH2M Hill said.
Hinman joined the firm in 1988 and has been a key figure in many of CH2M Hill's highest profile projects, such as the London 2012 Olympic and Paralympic Games programme.
She also served as chief executive and chairman of Halcrow after CH2M Hill's 2011 acquisition of the 6,000-strong firm.
"The Board and I have been engaged in succession planning for the past few years, and the timing and process have come together at the right time," said McIntire.
"I think we all feel fortunate to have Jacque as our new leader and a deep pool of talent behind her. We are excited to see the next stage in CH2M Hill's growth."
Hinman called her promotion a "truly a great honour".
She added: "CH2M Hill is a global family of people solving the world's biggest challenges. We have such a strong foundation of achievements on which to build our future. We appreciate everything Lee has done to put us in this position to succeed."
CH2M Hill director Chad Holliday also paid tribute to McIntire, saying he had turned the firm into a company of 15,000 staff with a $3bn turnover when he joined to one of 28,000 people and $7bn of revenue today.