Sekisui's UK boss adds that most of materials in offsite homes will be locally sourced
Developer Sekisui House will use "Japanese expertise" to drive a ten-fold increase in the modular housing output of UK developer Urban Splash, according to the boss of the firm's UK operation.
Japanese housing giant Sekisui House, which built 45,000 homes in Japan last year, took a 35% stake in Urban Splash in May, allowing the Manchester-based firm to continue to develop its modular housing product.
Speaking at this week's Mipim UK in London, Sekisui House UK chief executive Kenta Konishi (pictured, centre) said that under the deal Urban Splash would continue to use mainly domestically-sourced materials but allied with what he called "Japanese expertise".
Konishi also said the firm took its stake in Urban Splash because of the firm's approach to regeneration and placemaking.
In May, Sekisui House announced it had taken a 35% stake in Urban Splash, worth £22m.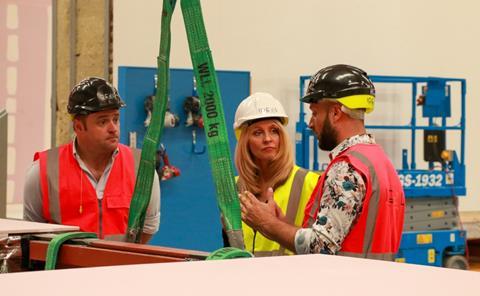 Following the deal – which took 27 months to secure – the Japanese firm established a team of four executives in London which it expects to help boost capacity at the UK firm's Alfreton factory eventually from 200 homes a year to 2,000.
Sekisui House, which has already built more than 2.4 million homes across the Far East, Australia and the US and has 3,000 architects and 1,000 R&D specialists, has been looking to expand into new markets for some time, Konishi said.
The firm was aware of the housing situation in the UK, Konishi added, where the government has set the sector a target of delivering 300,000 homes a year by the mid-2020s.
"We saw a lack of housing here, which was very surprising for me. We looked into the situation and saw the potential.
"We looked at a lot of players and we liked Urban Splash's customised-centric approach. And there are a lot of synergies between us, in areas such as regeneration and placemaking. We felt there was a good match."
Jon Bull Diamond, Homes England's head of joint ventures and partnerships, said Sekisui House's entry into the UK was "a no-brainer".
Homes England took a 5% stake in Urban Splash at the same time as Sekisui House's investment.
Diamond said Japan was "40 to 50 years ahead of the UK" in the sort of manufacturing space which Sekisui House occupied, and the firm's quartet of UK-based staff was already making an impact.
Housing minister Esther McVey (pictured) said she wants the UK construction industry to become world leader in modular building with 10 years, admitting that countries such as Germany and Japan were currently "far ahead" of the UK.