Measures introduced to create an improved system for consumers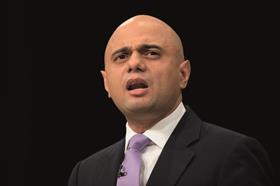 Communities secretary Sajid Javid has unveiled new measures to tackle "feudal practices" within the leasehold system in England, including a ban on leaseholds for almost all new build houses.
Measures to be introduced include legislating to prevent the sale of new build leasehold houses except where necessary, such as shared ownership; setting ground rents on new long leases for houses and flats at zero; and working with the Law Commission to support existing leaseholders and make the process of purchasing a freehold or extending lease much faster and cheaper.
Other steps will be providing leaseholders with clear support on various routes to redress available to them; a wider internal review of the support and advice to leaseholders to ensure it is fit for purpose; and making sure freeholders have equivalent rights to leaseholders to challenge unfair service charges.
Javid (pictured) will also be writing to all developers to "strongly discourage" the use of Help to Buy Equity loans for the purchase of leasehold houses in advance of legislation, and to ask those who have customers with onerous ground rents to provide necessary redress.
These measures follow a recent government consultation on leasehold practices that attracted over 6,000 responses.
Most expressed concerns about the buying experience and living in a leasehold property, which the government said highlights how the current system is clearly not working in the best interest of those living in or buying a leasehold home.
"It's unacceptable for home buyers to be exploited through unnecessary leaseholds, unjustifiable charges and onerous ground rent terms," said Javid.
"It's clear from the overwhelming response from the public that real action is needed to end these feudal practices. That's why the measures this government is now putting in place will help create a system that actually works for consumers."
According to the Department of Communities and Local Government (DCLG), there were around 4.2m residential leasehold dwellings in England in the private sector in 2015/16 of which 1.4m were leasehold houses - up from 1.2m in the previous year.
Leasehold normally applies to flats with shared spaces, which the government says makes multiple ownership more straightforward but that developers have been increasingly selling houses on these terms - increasing costs to house buyers.