Set piece announcement expected to include details on improving industry productivity
The chancellor is set to reveal details of the new government's construction strategy in its first Budget this spring.
Sajid Javid's Budget on 11 March will include a series of infrastructure spending pledges for the regions, with the Treasury expected to change the method of evaluating the economic benefits of spending after years of complaints that the current system favours London and the South-east.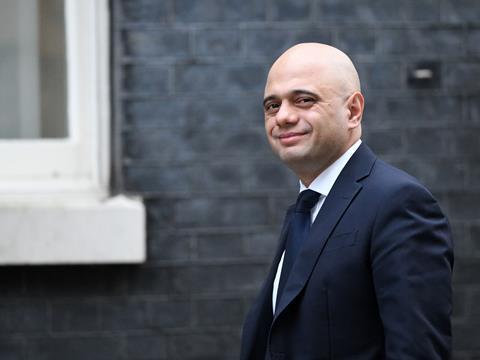 Simon Rawlinson, head of strategic research and insight at consultants Arcadis, said: "It is widely expected that the Budget will be accompanied by both the government's construction strategy and the national infrastructure strategy."
The government wants the industry to improve productivity and use techniques such as offsite construction to reduce inefficiency.
Rawlinson said the government's support for initiatives such as the Construction Innovation Hub, which was set up to explore ways of modernising the UK construction industry, and the Infrastructure and Projects Authority, which has asked for evidence on the viability of a platform approach to design for manufacture and assembly, was also significant.
He added: "[Javid needs to] balance the desire for early and highly visible deliverables with the need to use the investment as carefully and as effectively as possible to increase national productivity, progress towards net-zero and improve quality of life."
Javid's (pictured) predecessor, Philip Hammond, moved the budget from the spring to the autumn but the date was pushed back as a result of last month's general election.