The housing secretary has backed inspectors' calls to grant permission for schemes in London and Gloucestershire
Housing secretary Robert Jenrick has given the go-ahead to three contested housing schemes that are set to deliver more than 2,400 homes.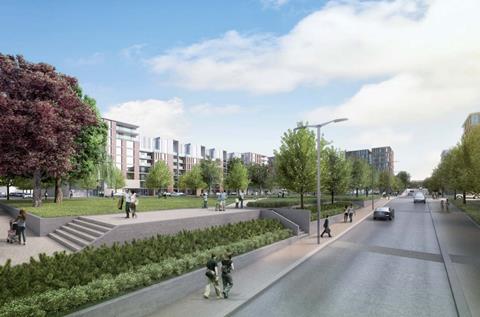 The developments, whose rejection by local planning authorities had gone to appeal, are in Tewkesbury, Gloucestershire, and the London boroughs of Barnet and Lewisham.
Planning inspectors had recommended that the appeals be granted, and the secretary of state agreed. The GLA declined to intervene in the London developments.
The Barnet scheme is being developed by Comer Homes, which plans to build a total of 1,200 homes across two developments on the site of the North London Business Park. Around 10% of the units are set to be affordable.
Designed by Dublin-based Plus Architecture, five blocks of up to eight storeys will feature 376 homes, while a further 824 homes will occupy buildings ranging from two to nine storeys. This has been reduced from a maximum height of 11 storeys after public consultation.
The development will also feature a secondary school and community sports facilities, as well as transport improvements.
Jenrick also gave the go-ahead for an 850-home scheme on farmland near Tewkesbury, which is being developed by Robert Hitchins and drawn up by Pegasus Design. The number of affordable homes has yet to be confirmed.
MB Homes is planning 365 homes in Lewisham, south-east London, across three buildings – of eight, 14 and 34 storeys – on the site of a Tesco supermarket car park and next to the railway and DLR stations. One-fifth of the homes will be affordable.