Housing secretary says decision to approve Tory donor's £1bn east London scheme made in good faith
Housing secretary Robert Jenrick has insisted he broke no rules in deciding to grant permission to a £1bn development by a Tory party donor that has subsequently been ruled unlawful.
Challenged in the House of Commons over the 1,500-home Westferry Printworks scheme by Labour shadow housing secretary Steve Reed, Jenrick said he was confident that no rules had been broken and that he took the decision in good faith and with an open mind.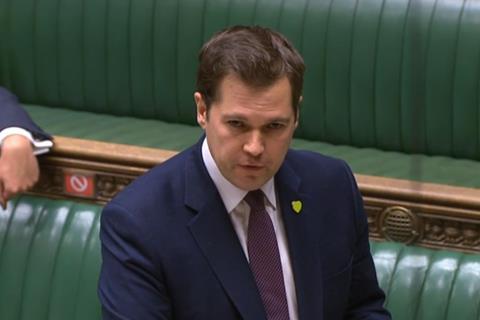 This is despite the fact the government has already conceded it acted with "apparent bias" in deciding the east London residential scheme, by deliberately taking the decision at a time that would have allowed the developer to avoid up to £50m in planning obligations.
Labour wants a full civil service investigation over the scheme being developed by a company owned by media mogul and Tory donor Richard Desmond.
Reed used the exchange to repeat his calls for the government to disclose all documents, correspondence and conversations within government on the decision.
Jenrick (pictured) told MPs: "Propriety in the planning system is incredibly important and I take my responsibility as secretary of state very seriously indeed.
"I took that decision in good faith and will an open mind. I'm confident that all the rules were followed in doing so. It isn't unusual to come to a different conclusion than a local authority. It isn't unusual for a Secretary of State to come to a different conclusion than the planning inspector."
Jenrick said all the information relevant to the case had been passed to the cabinet secretar and added: "I have taken and will take again advice from my permanent secretary on what further documentation might be able to be published."
After Jenrick's decision to approve the application was ruled unlawful late last month, it emerged that Desmond had paid £12,000 for a table at a Tory fundraising dinner at which he raised the issue of the application (pictured, right) with Jenrick. Jenrick has subsequently maintained he declined to discuss the topic with Desmond.
Jenrick's decision on the Westferry scheme has been quashed and the appeal is to be redetermined by a different minister.
Designed by PLP, the scheme is set to be project managed by Mace.