BSF project will unite split-site Cardinal Pole school in one location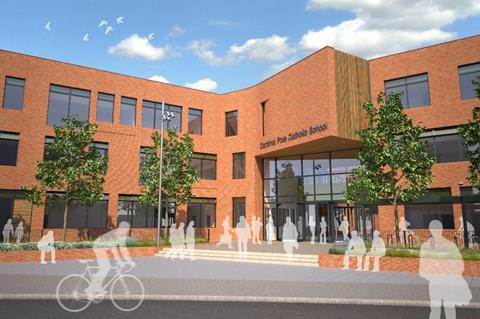 Cardinal Pole Catholic school
Jestico + Whiles has secured planning permission for a new three-storey building on Hackney's Morning Lane for Cardinal Pole Catholic school, uniting the school from its current split sites.
The scheme is part of phase two of the east London borough's Building Schools for the Future (BSF) programme.
The building is designed to echo the school's new education and pastoral care system, which is based on three "learning communities".
Each learning community is assigned a wing for its teaching spaces, learning resource centres and social areas, all interconnected by a central street that provides natural light and ventilation while encouraging circulation and social interaction.
Also included is a new, independent sixth-form facility, with workplace-style offices for business teaching and a specialised learning resource centre.
Permission has also been granted for the architect's design for a new building for Our Lady's Convent high school, a specialist language college in Stamford Hill, in another of Hackney's BSF planned schemes.
This has been recognised as one of the borough's highest achieving schools, despite the poor condition of the existing building on a cramped site. This is to be demolished and replaced with a completely new-build school.
Work in Hackney is expected to start on site in the autumn, with completion due by September 2012. Mansell is the contractor for Cardinal Pole school and Willmott Dixon for Our Lady's Convent.