Financiers worried by 50 year length of struggling firm's contract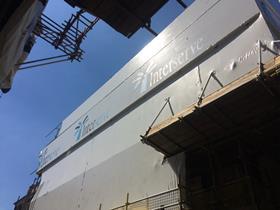 Interserve has pulled out of a joint venture picked to build and operate student homes after its financiers ordered it to do so, although it will still be responsible for constructing the project.
The firm was part of a consortium, Mount Oswald Colleges, which included asset manager Equitix and student housing specialist Campus Living Villages UK, appointed to deliver 1,000 homes for students at Durham university.
The £85m contract to finance, design, build and operate was awarded last year and includes building social and academic spaces for two new colleges, with the contract lasting up to 50 years.
But jittery investors told Interserve to ditch the deal as a condition for them pumping money into the business under the refinancing deal it signed in March.
Investors were understood to be spooked by the 50-year length of the contract and worried about the firm getting stuck in an unprofitable position.
Interserve said: "Under the terms of our recent refinancing we have stepped down from the consortium.
"Interserve will continue to be responsible for the construction of the Mount Oswald scheme. Equitix will oversee all aspects of the development in management services and will monitor the construction and operation of the new residences. Campus Living Villages will be tasked with the day-to-day management of the facilities."
In its 2017 annual report, Interserve flagged up the contract over an entire page and said it was one which "strengthens our position in further education market" .
The firm is building a student hub set to open next autumn, while it also works on the residential facilities, which will see students move in for the 2020/21 academic year – a year later than first planned.
Construction was due to start in April but was delayed as the consortium and university struggled to reach financial close. The deal was inked in August, almost a year after the client agreed to employ the JV.
The university provided land on Mount Oswald, south of Durham's centre, with outline permission for 1,000 student residences as part of the deal to develop the colleges.
Interserve, whose share price at one point this week slumped a third to a 30-year low of 29p, was forced to undergo a refinancing after losing over £200m on contracts to build energy-from-waste plants.
The contractor agreed a rescue deal with banks in March which saw it take £197m in cash beside bonding facilities of a further £95m.