Joint venture invests £200m in land for 4,700 homes at garden city site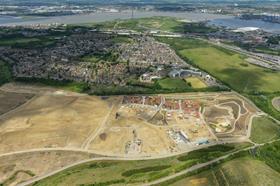 Infrastructure and placemaking joint venture Henley Camland has purchased two-thirds of the "Eastern Quarry" section of the Ebbsfleet garden city site in Kent as part of a £200m investment.
The section, currently owned by Land Securities, has outline planning permission for 6,250 homes spread over a 200ha former quarry site that is split into three "villages".
The wider Ebbsfleet proposals earmark the delivery of 15,000 new homes.
Under its deal, Henley Camland will buy two of the Eastern Quarry "villages", with capacity for 4,700 homes. It said it would deliver the necessary infrastructure to provide ready-to-build-on serviced land parcels for housebuilders.
Land Securities has already agreed contracts with a range of housebuilders to bring forward 1,550 new homes at Eastern Quarry as part of the first "village", which is named Castle Hill. Partners include Ward Homes, Persimmon, Charles Church, David Wilson and Taylor Wimpey.
Camland Projects, which formed the joint venture with private-equity group Henley last year, is already delivering infrastructure with Land Securities at Castle Hill.
Henley chief executive Ian Rickwood said the joint venture had been established with the goal of "becoming a major new player in the serviced-land placemaking market" and that Ebbsfleet deal was its first acquisition.
"[This] is a real statement of our intent and paves the way for us to work towards our long term goal of creating 20,000 lots across the UK," he said.
"With Camland having worked in an advisory role for the last four years at Eastern Quarry, we have complete confidence in the site's potential and look forward to building on the good work that Land Securities has already carried out."
The joint venture said it would carry out significant infrastructure works to the remainder of the quarry, including levelling former quarry land, developing roads and creating a new lake.
It will also be delivering a number of neighbourhood retail, leisure and community facilities, including two primary schools and a secondary school.