Barnet Council and development partners ink deal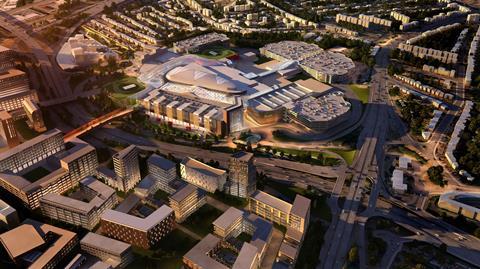 Barnet Council has signed and sealed the £4bn regeneration deal with developer joint venture Argent Related, Hammerson and Standard Life Investments.
The multi-billion pound Brent Cross Cricklewood scheme will create a new town centre, comprised of 7,500 homes, three re-built schools, new parks and community facilities, the redevelopment of Brent Cross shopping centre and an additional Thameslink train station as well as major road and public transport improvements.
Hammerson and Standard Life Investments will redevelop Brent Cross shopping centre, while Barnet Council and Argent Related will deliver nearly 7,000 new homes, parks, community facilities and a new high street.
A new pedestrian "living bridge" across the A406, which divides the area, will also be built.
The new Thameslink station that will link the redevelopment to Kings Cross St Pancras is being delivered by the council with support from the Greater London Authority and a £97m government grant, which former Chancellor George Osborne confirmed in the last Budget he took charge of earlier this year.
Argent Related joint chief executive David Partridge said: "This is a scheme which we have been looking to get involved in for a long time – it is exactly the sort of opportunity which brings together Argent and Related's combined experience in major regeneration.
"Brent Cross is a perfect example of the public/private partnerships which are essential to meet the needs of London, delivering places to live, work and visit – and creating shared value for all."
Leader of Barnet Council councillor Richard Cornelius said: "Securing the agreement signifies our partners' confidence in the scheme and London's future. I am sure that together we will be able to breathe new life into this area and create a thriving London neighbourhood which will be a model for the 21st century and beyond."
Hammerson and Standard Life Investments said: "As one of London's key strategic growth projects, we are committed to bringing forward this major regeneration project which will create a vibrant new town centre for North London and will transform Brent Cross Shopping Centre so that it can continue to play its central role in both the local community and to London."
The council was supported in the agreement by its joint venture company Re who co-ordinated the delivery of the project, and property advisors GL Hearn, Capita Real Estate, lawyers Gowling WLG and retail advisors CBRE.
The Brent Cross South masterplan was approved in October 2010 and revised in 2014 to split the site in two with Argent Related selected last year as the development partner for the 180-acre Brent Cross South. Construction on the southern site is expected to begin in 2018.