Turnover at social housing refurbishment specialist rises 17% to £1.1bn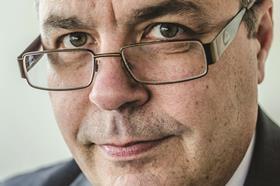 Keepmoat's revenue has jumped 17% to break through the £1bn barrier.
In financial results for the year to March 2015, the firm posted revenue of £1.1bn, up from £930.6m the previous year. Operating profit rose 4.1% to £58.1m, up from £55.7m.
The social housing refurbishment and regeneration contractor posted an increase in regeneration income of 15% to £832.4m due to work on PPP schemes in Leeds and Pendleyton, and a £100m framework win to bring properties up to Decent Homes standard in London's Enfield.
The Homes division saw revenue increase by 25% to £262.4m.
Commenting on the results, chief executive Dave Sheridan (pictured) said: "The economy and housing market are in a period of growth. All political parties recognise the need for more social and affordable housing, both rented and owner occupied, and the new government should prove positive for the sector and will provide stability for the next five years.
"We know that housing is going to be near the top of the government's agenda in the years to come due to the chronic undersupply of housing across the country, and in particular in the rented and affordable sectors."
A consortium of two US and UK private equity firms agreed to buy Keepmoat last Autumn in a deal thought to worth around £400m.
TDR Capital, from London, and Sun Capital from Florida, bought Keepmoat's parent company Lakeside 1 Limited. At the time Keepmoat said the private equity firms were investing to "support the long-term future of the business".