Housebuilder set to build more than 4,000 units as it reports profit up by 22%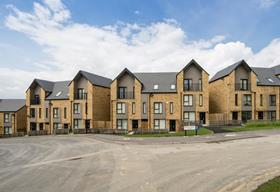 Reporting record annual turnover for last year, Keepmoat said it hopes to build more than 4,000 homes in the next 12 months.
The Doncaster-based housebuilder said turnover for the year to 31 March 2018 came in at £555.6m, up nearly a third, while pre-tax profit rose 22% to £41.7m.
It completed 3,717 new homes, a rise of 27% on last year. The average selling price rose 2.8% to £149,000, while the number of plots on the firm's books increased by 13% to 32,331.
James Thomson, Keepmoat's chief executive, said that following the sale of its regeneration arm to Engie last year the firm was now focusing entirely on its housebuilding activities, including modular construction.
Thomson said Ilke Homes, the group's joint venture with Elliott Modular Buildings, had delivered two homes at its Carr development in Doncaster using modern construction methods and it had a "healthy pipeline" of such projects lined up with the partnership.
And more than 80% of Keepmoat's housing schemes were on brownfield land, Thomson added, welcoming what he called "an increasingly sophisticated approach to brownfield development" from local authorities across the UK.
Nearly a third of its homes were sold to registered providers and the private rented sector, the group said.