UK ground engineer to raise over £50m to fund acquisition through a share placement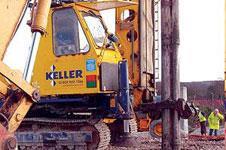 Ground engineering firm Keller is set to acquire a Canadian foundations firm in a deal worth over £200m.
In an announcement to the City, Keller said it would buy foundations firm North American Piling from North American Energy Partners for an initial cash payment of CDN$227.5m (£144m) with a further CDN$92.5m (£58.5m) deferred payment dependent on the Canadian firms performance over the next three years.
In the year to 31 March 2013, North American Piling reported revenue of CDN$236.5m (£149.7m) and an operating profit of CDN$38.5m (£24.4m).
Justin Atkinson, chief executive of Keller, said Canada was key target market for the firm and the acquisition would "build substantially" on its existing operations in the region.
He added: "North American Piling is a market-leading business with attractive margins positioned in growth markets, including the resource-rich regions of Western Canada.
"The business has a strong record of growth delivered by an experienced management team who are transferring to Keller. Importantly, the acquisition will be significantly earnings enhancing."
Keller is financing the deal with a placing of 6.6m new ordinary shares on the London stock exchange and from drawing down of new and existing banking facilities.
It said the shares would be sold at 890p per share and raise £58.7m for the firm.