Groundworks giant announces expansion of its North America business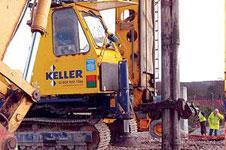 Specialist contractor Keller has expanded its presence in North America with the acquisition of Canadian ground engineering specialist Geo-Foundations for £5.7m.
Geo-Foundations turns over £12.4m and principally works in eastern Canada in the construction and mining industry.
Keller said the acquisition would complement its existing US business and "is expected to fuel significant growth over time".
Geo-Foundations specialises in micro-piling, ground anchors, and specialty grouting services
Justin Atkinson, chief executive of Keller, said: "Keller has worked in partnership with Geo-Foundations on a number of projects in recent years, building a relationship of mutual respect.
"I am confident that, together, we are well-positioned to fully exploit the opportunities in this attractive market.
"This acquisition builds on our strong track record of expanding into higher growth geographic regions through both organic growth and targeted acquisitions."