Pair expect fruits of their labours to enter the market within two years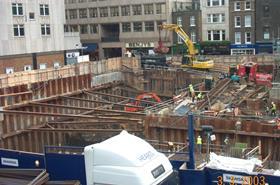 Keltbray has teamed up with City, University of London, to develop new, efficient and more effective methods of designing and building foundations.
With the goal of creating better products and working practices the pair expect the results of their work to enter the civil engineering sector by the middle of 2020.
Identified work streams will span the whole value chain, the pair said.
Michael Pelken, Keltbray's group innovation director, said his firm and the university were looking to "close acknowledged gaps between academic and industry-led research.
"This collaboration agreement is part of our wider ambition to increase our technological awareness and progress a number of innovative ideas that we have."
City's Dr Andrew McNamara, senior lecturer in civil engineering, said the partnership would transform the way that foundations were designed and constructed.
"We aim to bring piling in line with other aspects of construction where positive change has been ingrained in the design and construction of sustainable structures above ground".