Demolition and rail work boost turnover at specialist contractor, but pre-tax profit slips 3%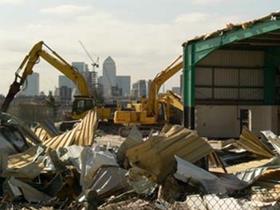 Specialist contractor Keltbray has posted a 15% increase in revenue, with the firm boosted by a rise in rail and demolition work.
In its accounts for the year to 31 October 2013, Keltbray reported revenue of £145m, up from £126m the previous year.
The firm was boosted by growth in its demolition and civils business, which grew revenue to £96m, up from £85m the previous year, and its rail arm, which grew revenue to £45m, up from £36m.
But Keltbray's environmental business, which manages contaminated material, reported a fall in revenue to £4.6m in the year to 31 October 2013, down from £5.4m the previous year.
Despite increased revenue the firm reported a 3% fall in pre-tax profit to £1.91m in the year to 31 October 2013, down from £1.97m the previous year.
The fall in profitability was largely driven by an increase in administrative expenses to £24.8m in the firm's 2013 accounting year, up from £19m in 2012, and a decrease in "other operating income", which fell to £510,566 in 2013, down from £799,144 in 2012.
Writing in the accounts Keltbray finance director John Keehan said improved returns in the firm's asbestos business had helped boost its demolition and civils arm's results.
He added: "The level of [demolition and civils] enquiries remains satisfactory and the uncertainty surrounding project start dates has reduced, reflecting more confidence in the market."
Keehan also said he expected the firm's rail arm to benefit from Network Rail's increased spending over its current five year spending period, which runs until 31 March 2019.