London mayor said it is a "classic example of how not to do estate regeneration"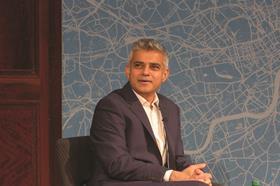 London mayor Sadiq Khan has refused permission for an estate regeneration in Barnet because it would result in the loss of 257 affordable homes.
The application from Genesis Housing Association to redevelop the Grahame Park estate in Colindale included plans to demolish 692 homes available at social rent but replace them with just 435 in the same bracket.
It was approved by Barnet council last month and would have seen a total of 1,083 homes built. At the time, Genesis said 60% (652) of the new homes would be of an 'affordable' tenure covering social, affordable and London Living rents and shared ownership. The remaining 431 homes were to be offered for private rent.
But Khan (pictured) has withheld his support for the scheme and told Barnet council they must continue working with City Hall planners and the developer to redesign the scheme to replace the lost affordable homes.
His draft London Plan, published for public consultation earlier this month, states that applications for housing estate renewal should include the renewal of existing affordable housing on a like-for-like basis, and that there should be no net loss of existing social housing, including social rent.
The Grahame Park application was also deemed unacceptable as it fails to provide a minimum of £840,000 to deliver additional bus capacity and suitable alternatives to private car use.
"This is a classic example of how not to do estate regeneration," said Khan. "I fully support improving social housing on this estate and across the capital, but this scheme falls far short of what I expect of London boroughs.
"Londoners so urgently need more high-quality housing, not less, which makes this scheme completely unacceptable in its current form.
"I have asked Barnet Council to work constructively with the applicant on alternative plans with greater density, which do not result in the net loss of affordable homes. Given its recent record in this area, I hope the council recognises the need to replace what would be lost at Grahame Park."