Kier was appointed to restore the building following 2014 fire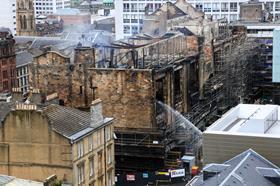 Kier and the Glasgow School of Art have terminated their contract for the restoration of the Mac building following a fire back in 2014.
In a statement, the contractor and the college announced they had "jointly concluded that the current contract for the Mackintosh Building restoration will end with immediate effect" following the latest fire at the Mac which ravaged the Grade A listed icon earlier this month.
The statement said: "Both parties agreed that the current contract could no longer be fulfilled or completed."
Kier was appointed in June 2016 under a contract valued at around £25m with the work, which included restoring the library, scheduled for completion in January next year.
Kier was carrying out the restoration of the building with Page/Park, the architect appointed after the 2014 fire.
The news comes a day after Glasgow council announced it will begin dismantling sections of the Mac Building as the risk of imminent collapse grows.
Specialists are predicting that a sudden collapse of parts of the building is now "likely, rather than possible" after surveys revealed more substantial movement in the walls than previously thought.
Demolition contractor Reigart is expected to start dismantling work "as soon as possible". It is expected to be within the next few days, once a method has been agreed.
Reigart will work with structural engineers David Narro Associates.