The Crown Estate is moving forward with its £100m revamp of grade II-listed Morley House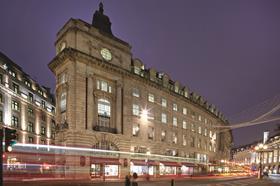 Kier has bagged the £36m contract from the Crown Estate to redevelop Morley House on Regent Street.
The Estate's £100m plans for the site north of Oxford Circus are part of its ongoing £1bn regeneration of the major shopping street.
The new building to be delivered by Kier and development manager Waltonwagner will provide 11,000ft2 of retail space and 44 residential units. It is expected to complete in summer 2020.
Bob Dawson, head of the Regent Street portfolio at The Crown Estate, said: "On-going investments such as Morley House are an important part of our long-term commitment to London's West End and support our vision to refocus the area north of Oxford Circus around high-quality lifestyle and leisure, complementing the fashion-led offer on the rest of Regent Street."