Kier chief executive Paul Sheffield has predicted that his firm will be unaffected by cuts to the government's investment in schools and predicted the firm's outgoing financial director would be "swamped" with opportunities
In a trading update on Monday, the firm said it expected profit to be ahead of last year's. The statement also said cash holdings for the year ending 30 June 2010 had hit a record £170m, compared with £93m a year ago. The firm claimed it had only limited exposure to Building Schools for the Future, so the recent spending reductions would have no "material impact" on the order book.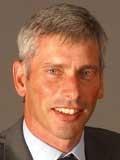 Sheffield, pictured, said: "We spotted 18 months ago that if there was going to be a contraction in education spending, it was going to be in BSF. So we decided to concentrate on academies."
The firm reached financial close on Cambridgeshire's BSF in May. It is also finishing off £150m of BSF work in Kent, although the next phase, which it was negotiating, is now on hold.
Sheffield says: "We're in discussions with the government to see if that means stopped or stalled. Aside from education there is a lot of work coming that is in power, waste and Crossrail. And we're in discussions over four mixed-use schemes for retailers - two in London, one in Bicester and one in Ipswich."
Meanwhile, the firm's financial director, Deena Mattar, announced she will step down in November after nine years in the role. She said she would pursue "other opportunities", but was not available to give further details.
Haydn Mursell, who is currently deputy group finance director at Balfour Beatty and worked at Bovis Lend Lease from 2001 to 2008, will replace Mattar.
Of the incoming financial director,Sheffield said: "He's had a lot of personal and industry recommendations - we targeted him from the outset." He added: "I'm sure Deena will be swamped with new opportunities."
Regarding the firm's appeal against the Office of Fair Trading's £17.9m fine for tender malpractice, Sheffield said he would be "happy to get back a few million pounds". A decision is due towards the end of the year.