Bev Dew is set to leave the company in September
Kier has confirmed that its finance boss is set to leave the company after more than four years in the role.
In an announcement made on the London Stock Exchange this morning the contractor confirmed its finance director Bev Dew (pictured) would be relinquishing his role later this year.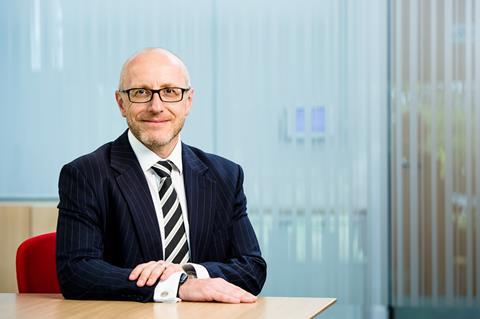 The contractor said: "Bev Dew will stand down from the board of directors and leave the company by 30 September 2019, shortly after the announcement of its results for the financial year ending 30 June 2019. An executive search for a successor to Mr. Dew has commenced."
The company's chairman Philip Cox said that Dew was "firmly committed to the company" and would be working with the board to provide the 2019 financial results.
Before joining Kier, Dew spent almost two years as finance director at Balfour Beatty and seven years at Lendlease as chief financial officer.
After he leaves the longest-serving executive director at Kier will be chief operating officer Claudio Veritiero – who joined the board last August.
Last October Dew and Veritiero both received 67,324 shares each under Kier's 2010 Long-Term Incentive Plan, worth £603,000.
Dew's departure is the latest in a string of executive changes at the contractor, headlined by ousted chief executive Haydn Mursell who left Kier in January after almost five years in the top job. He has since been replaced by former Wates boss Andrew Davies.
When he was appointed in March Davies announced he would be carrying out a full review of the company.
A week before he was given the top job the firm told investors an accounting error meant its net debt was actually £50m higher than previously thought - at £180.5m.
Before Mursell's exit, executive director for regional building, Peter Young, said he would be retiring from the company this June, while Nigel Brook and Nigel Turner, formerly executive directors for construction and infrastructure services and development and property services respectively, quit last July.