Kier secures early backing from around a third of May Gurney shareholders for proposed £221m takeover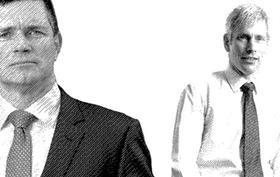 Kier has received significant support for its proposed £221m takeover of May Gurney, with nearly a third of the services firm's shareholders saying they will back the move instead of the proposed merger with Costain.
In a statement to the City this morning, Costain said that it had received notifications from a number of major May Gurney shareholders that they no longer intended to support the proposed merger between Costain and May Gurney, and would back the Kier takeover plan announced yesterday.
Costain said it had received notifications of irrevocable undertakings - an agreement from shareholders to accept a takeover - from 27.28% of May Gurney shareholders advising Costain that they "no longer intend to vote in favour" of the Costain-May Gurney deal.
Costain said it had also received notification from a further shareholder, Aviva Investors Global Services Limited, which holds 5.16% of May Gurney's shares, that it no longer intends to vote in favour of the Costain-May Gurney proposal.
This means around 32% of May Gurney shareholders have now formally switched their support to the Kier takeover proposal.
Last night Kier said it had received irrevocable undertakings from 24.25% of May Gurney shareholders.
Meanwhile, in a trading update to the City, Kier said that for the first four months of the year its constructions business "continues to be resilient and has maintained operating margins around 2%".
The firm said it had secured around £400m of new contracts across both the private and public sectors, underpinned by its involvement on a significant number of frameworks.
The firm said its services business was trading as forecast, with an order book of £2.1bn.
The firm said it remained on course to meet expectations for the current financial year.
It said: "The group's order books in construction and services remain robust, trading performance and cash position are in line with expectations and the Group is experiencing a good level of bidding activity."
The firm said the comprehensive review and restructure of its business, announced in its full year results in February, "has made good progress to date" and "promises to deliver significant reductions in costs, greater organisational efficiency and establish a strong platform for future growth".