Firm's Scottish business appointed as the main contractor for the Burrell Collection job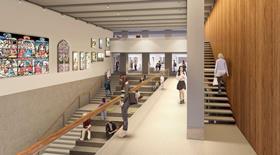 Kier Construction Scotland has been appointed as the main contractor for the £66m refurbishment of the Burrell Collection museum in Glasgow.
It will oversee the repair of the building envelope, renewal of the building services, the creation of a new internal access core and refurbishment of the museum's interiors along with external landscaping.
Glasgow City Council have agreed to fund up to half of the overall project cost, while over 94% of this has now been raised including £15m from the National Lottery.
The refurbishment will see the museum's public space increase by 83% and gallery space upped by more than a third, with store rooms on the lower ground open to the public for the first time.
The museum closed in October 2016 for refurbishment and is expected to reopen in 2020.
Brian McQuade, managing director of Kier Construction Scotland, said: "We are committed to working closely with the local supply chain to help create a range of diverse employment and training opportunities and provide opportunity throughout the life of the project to help increase footfall in Pollok Park during the construction period as we deliver this important project."
The Burrell Collection is an art collection that was built by the shipping merchant and philanthropist Sir William Burrell and donated to Glasgow in 1944. It comprises of nearly 9,000 items ranging from ancient prehistoric artefacts and Chinese ceramics to works by impressionists such as Manet and Degas.